Mosselen aan de Maas (Mussels at the Meuse)
Mosselen aan de Maas is a delicious culinary and business event that we have organized with our own Dare Events eight times already. Entrepreneurs, managers, prominent figures and BN'ers come together at this event to network, enter into new collaborations, enjoy live music and other acts and, of course, to eat mussels and many other things!
Logo & corporate identity
For the corporate identity of Mussels at the Meuse, we chose cyan and blue. With these colors, we wanted to emphasize the nautical character of the waterfront fair. Rotterdam is of course a port city, so this event fits in incredibly well! We also thought of this when designing the logo: the wavy shapes are reminiscent of water, but together the shapes also seem to represent a kind of ship.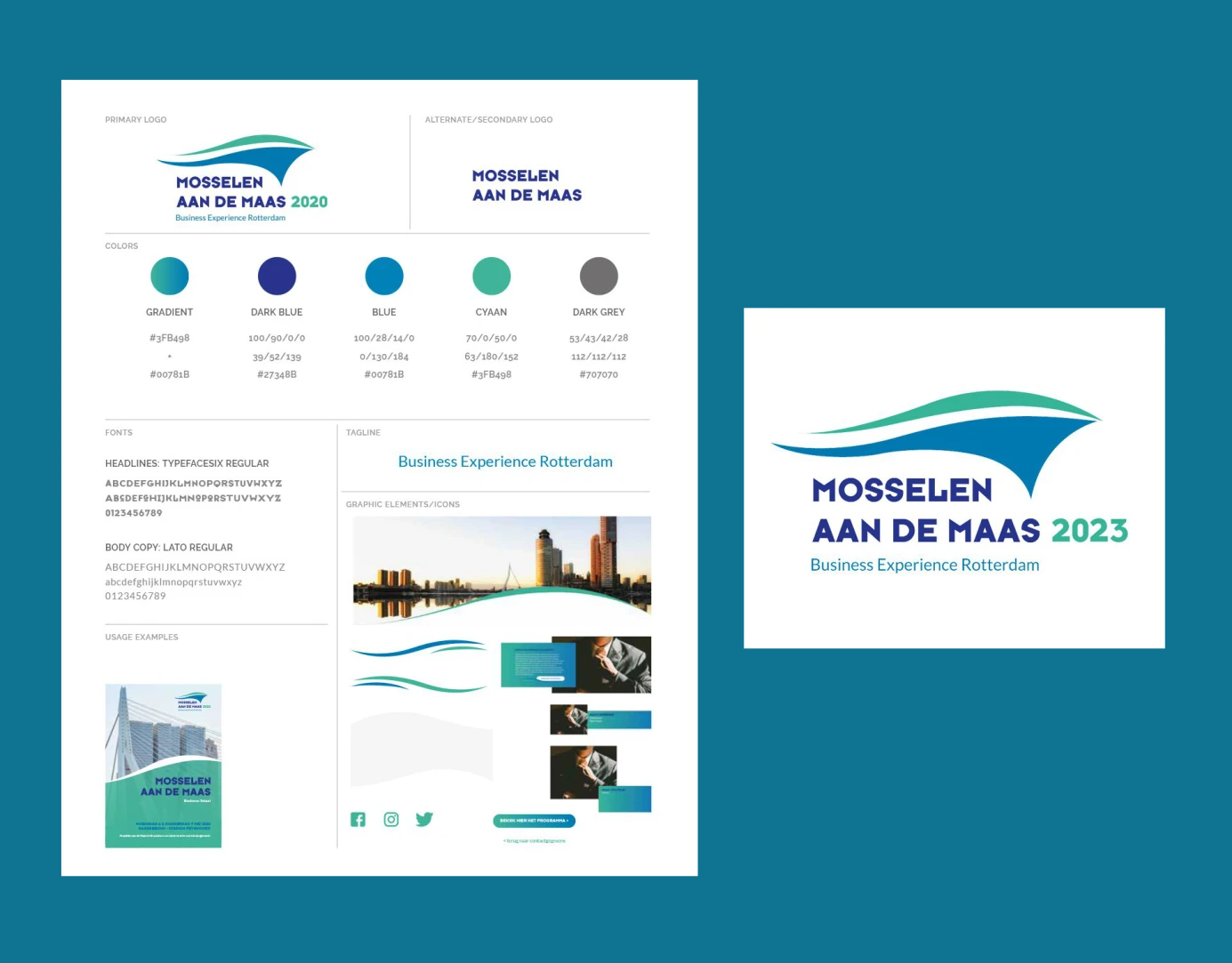 Flags and Banners
For the event, we designed flags and banners that dress the event in the right style. This way, the entire fair is in the same, recognizable style. The roll-up banners also feature information about the fair and a handy QR code to the website!
Badges and Keycords
To let the exhibitors and visitors also walk around in the style of the fair, we have developed badges and keycords in the style of the event. This way, first of all, we can see who belongs and secondly, it creates even more unity in the appearance of the event.
Brochure and Plattegrond
We obviously designed and printed everything needed to make an event like Mosselen aan de Maas successful. The brochure with the program, a map of the exhibition floor, as well as the banner for the emails, posters, advertisements, stationery, etc. were taken care of by our designers.
Website
An event obviously needs its own website. So for Mosselen aan de Maas we developed a clear, well functioning website. All information can be found there clearly, as well as pictures and contact details. Moreover, we can easily update it for each edition!
Aftermovie
We also make an aftermovie after each edition. Our cameraman provides the right photos and videos, after which our designers edit them into a short video that reflects the atmosphere and surroundings of the edition. This is of course fun for the visitors, but also excellent promotional material for the next edition!
Dare Events
Dare Events is the events department of The Dare Company. From this branch of our organization we organize various events, where of course we also take care of everything related to design, developing and marketing. Together with a team of experienced entrepreneurs we organize successful fairs and other events, such as 'Dikes and Rivers' and 'New People's Business'. Want to know more about how we can help you with your event as well?

Click here