Wolters Kluwer & The Dare Company
Wolters Kluwer is one of the clients we are very proud of. Wolters Kluwer is a publisher, supplying information, software and service to legal, business, fiscal, accountant, audit, risk management, compliance sector, health care organisations and authorities. Due to their focus on catering to the wishes of their clients and keeping an eye on changes on the market, they are leading in their field. Wolters Kluwer is active in over 180 countries with millions of clients.
Digital Magazine
In the beginning of 2017, we were asked for a special project for Wolters Kluwer. Wolters Kluwer was searching for an innovative and creative way to inform their clients about new possibilities and innovations. Moreover, they looked for a way to start a meaningful dialogue with their clients concerning Intellectual Property (IP), their story, IP through leadership, and how their clients experienced their products. This is the point where The Dare Company stepped in to find a suiting solution for this challenge.
Concepts
We started the process by attending a kick-off workshop in the head office of Wolters Kluwer. Our account manager visited the office together with one of our User-Experience designers in order to figure out what Wolters Kluwer wanted the result to be and the ways in which we could translate this into a strong concept.
As a result of this workshop, we concluded that the best solution for Wolters Kluwer would be an online magazine. The digital magazine would highlight several subjects and categories all related to the Wolters Kluwer Intellectual Property Law. The reader will be able to click through to the website, a video or contact information related to the subject.

Interaction design
After deciding on what should be developed in order for Wolters Kluwer to reach their goal, our designers started sketching an interactive design of the digital magazine. First, a flowchart was created to determine the structure of the digital magazine. This schematic overview helps the designers and developers to determine which content and pages should be linked.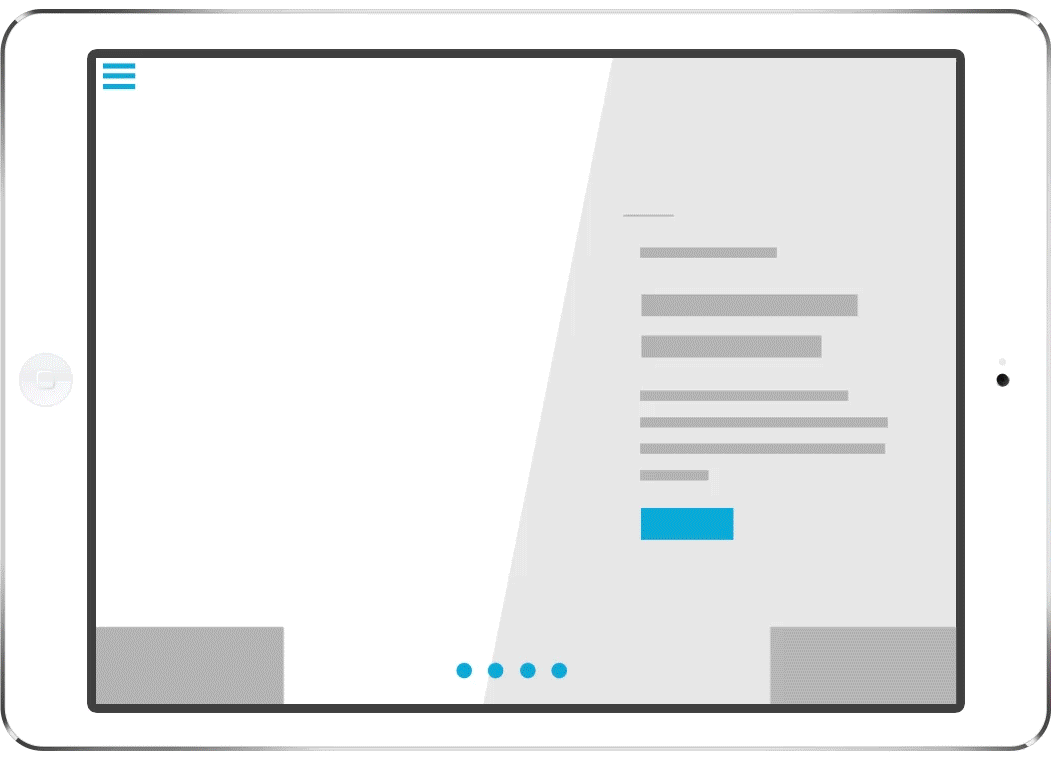 Once the flowchart was created and we came to an agreement with our client, our interaction designer started designing the skeleton of the digital magazine, also known as wire framing. In this stage of the process, decisions are made about where text, pictures and buttons should be placed. This stage determines how animations will move and what happens when for example the menu bar is folded out.
Several versions were made and tested using an A/B testing method and paper prototypes. After the analysis of the test results, we were able to exclude some designs and choose one final design for further visual development.

Visualisation
In this stage of the design process, we are able to translate the interactive design into a visual design. We paid great attention to the incorporation of the Wolters Kluwer's corporate identity and making sure that the design has the right 'look-and-feel'.
This project in particular asked for the incorporation of large images that supported the written text. Our User-Interface designer had the task of searching for expressive images, edit them to make them visually even more attractive and more supportive of the written text. The Wolters Kluwer colours were used and matched with the images.
Online marketing
Besides the digital magazine shown above, we're also providing Wolters Kluwer with visuals and other marketing services. We have made online advertisements for Kluwer Intellectual Property Law and Kluwer Competition Law. Besides that, we have also designed several e-mail templates and newsletters that were send to the customerbase of Wolters Kluwer.
Advertisements
These advetisements were made for several online and social media platforms, like Google, Facebook, Twitter and LinkedIn. The main goal was to communicate a clear message supported with suiting visuals. We have created these advertisments for bookpublications, new features and developments at Wolters Kluwer and quotes by customers and employees at Wolters Kluwer.