Tattoo Bob & The Dare Company
Tattoo Bob was founded in 1968 and is therefore the oldest tattoo shop in the Netherlands. They have grown into the most famous tattoo shop in the Netherlands and they are a true icon of Rotterdam. In addition to putting tattoos in all kinds of different styles, they have specialised in putting on medical tattoos and Micro Hair Pigmentation. We have been approached by Tattoo Bob to give their website a complete makeover.
Website & design
Tattoo Bob asked us to review their existing website thoroughly and to recommend improvements. Although the findability of their website via search engines such as Google was very good, many opportunities were still to be achieved in terms of design. Our task is to improve and optimise their old website in terms of User Experience (UX) and User Interface (UI).
Interaction & User Experience Design
We had to pay attention to the strength of the website while making a new webdesign. The website contains a lot of content and images, so the structure and flow had to be determined with military precision. Tattoo Bob already had a characteristic branding and they wished to have this recognisability implemented in the new design. Through brainstorming sessions we determined the structure and flow with which our UX designer was able to start tweaking the flow and making the wireframes.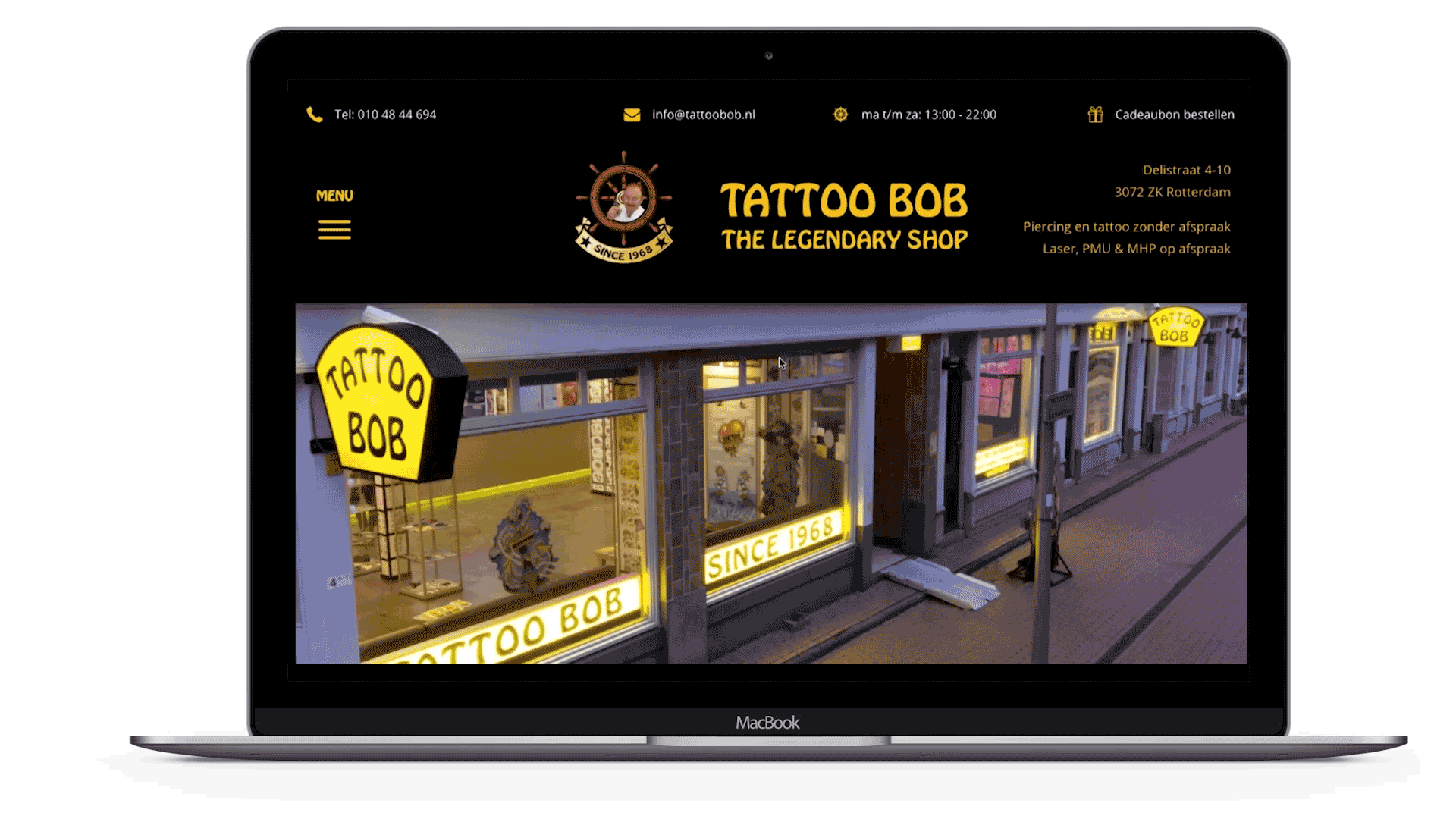 Visualisation
In the visualisation phase of the design process we have translated an interaction design into a visual design. Tattoo Bob wanted us to focus on maintaining the corporate identity and the right look and feel for the design. Our UI designer has brought the corporate identity colours and fonts back into as many elements as possible, so that stakeholders will recognise the Tattoo Bob branding everywhere. This will be seen on the website as well as in the analogue marketing expressions of Tattoo Bob, such as the many billboards hanging throughout Rotterdam. For our UX / UI designer it was very important to design not only for desktop, but also for tablet and mobile because the website had to be built responsive. This means that the website has to scale as the screen gets smaller and that it remains legible and functional on all formats.
Development
In the realisation phase of the project, our programmers have committed themselves to converting design into working code. For this they have used multiple programming languages, such as HTML and CSS for building the front end and PHP for building the back end. The website has been linked to our own CMS, so that Tattoo Bob can adjust texts and add images without having to use complicated code.