A Digital Business Card: better than paper?
If you meet someone at a conference, a trade fair, on the train, in the pub or anywhere else, it can be useful to give them your business card. Even better, of course: exchange business cards. That way, you don't have to wait to be called or e-mailed, but can take action yourself!
Show off your corporate identity and logo
At The Dare Company, we are often commissioned to create business cards for all kinds of organisations. This card is a small piece of design that contains all the important (contact) details of the company and the person. We also make sure it conveys the company's corporate identity and logo, thus conveying the right feeling. So this little card contains your person and your organisation in miniature.
QR code or NFC
Nowadays, we get more and more requests to create these business cards (also) digitally. Here, we ensure that people go to an online business card by means of a code. This is done via a QR (Quick Response) code or NFC (Near Field Communication). This takes the network relation to a page where they can immediately click through to the e-mail address, the website and all other details. Pretty convenient, right?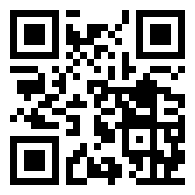 "Scan the QR code with your phone's camera for more information"
The QR code or NFC can be scanned via the phone by another phone or, in the case of the QR code, printed on something (or, of course, tattooed on the body). A lot more modern and with handy features included. But, can this then completely replace the physical business card, or is there still room for the 'old-fashioned' business card in our modern existence?
Get the best of both!
Our answer is: yes! We believe that having both a digital and a physical business card is best. That way, you make use of all the benefits of both forms. For instance, a paper business card does not allow you to click through on icons, but a digital card, on the other hand, is difficult to leave in places where many potential customer contacts walk by. In addition, seasoned networking enthusiasts find that they are better off waking up in the morning with a (at the time) completely unfamiliar business card in their pocket than with a page once visited on their phone.
That's why we say: take advantage of both! Curious about the possibilities of business cards? Get in touch with us or take a look at the business cards we have designed and printed in our portfolio!